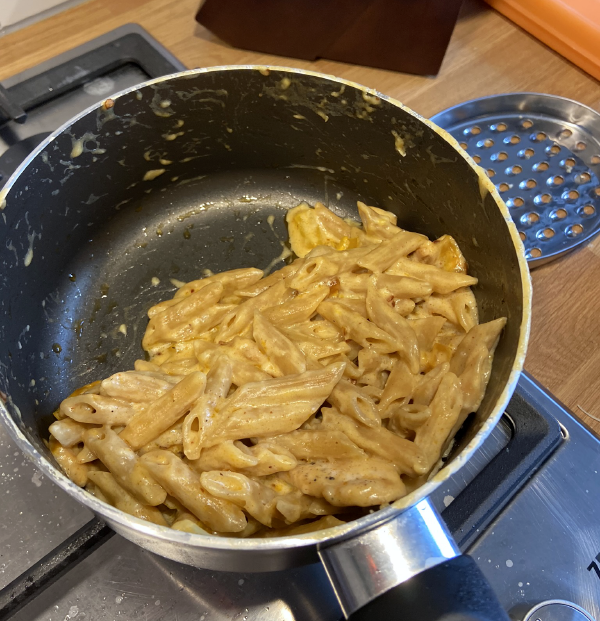 Twisted Mac and Cheese
Semi-inspired by the Hard Rock Café's dish of the same name.
Ingredients
(To serve 3). 30 mins-ish, including vegetable and chicken prep.
1 chicken breast (~250g),
~250ml milk,
~25g unsalted butter,
~2 tbsp. plain flour,
300g pasta,
Ample cheese, grated (mainly base cheese like Cheddar, with some flavour cheeses like Parmigiano-Reggiano and Pecorino),
1 bell pepper (of your choosing),
Sea salt, black pepper,
Olive oil,
Paprika,
Chilli/red pepper flakes,
Cayenne pepper.
Instructions
Chicken etc.
Salt chicken breast 24 hours before, refrigerate and cover.
Thinly slice chicken breast. Season with black pepper.
Dice (1cm) pepper.
Add olive oil to pan, heat till shimmering.
Add chicken, fry and turn until all pieces change colour.
Add diced pepper, toss, and add a generous portion of paprika, chilli flakes and cayenne pepper.
Fry.
Pasta
Generously salt a potful of water, bring to the boil.
Add pasta, simmer till al dente. Drain, saving some of the pasta water for later.
Sauce
Heat milk in saucepan (not to boiling or burning).
Roux – melt butter in separate saucepan, add flour and and stir continuously for a few minutes.
When roux sufficiently done, add and mix in milk by small doses. Stir over medium-high heat until thickened.
Add some reserved pasta water, add cheese. Stir. This should greatly thicken the sauce. If in doubt, grate more.
Serving
Add chicken and diced pepper from frying pan, fold into sauce.
Taste, season with sea salt and black pepper as needed.
Add pasta, fold into sauce. Serve.
Rating?
4/5, easy and quick to make. Tastes close enough to my memory of the dish for something I came up with on a whim, which is a bonus.